Get Notification for new funny video uploads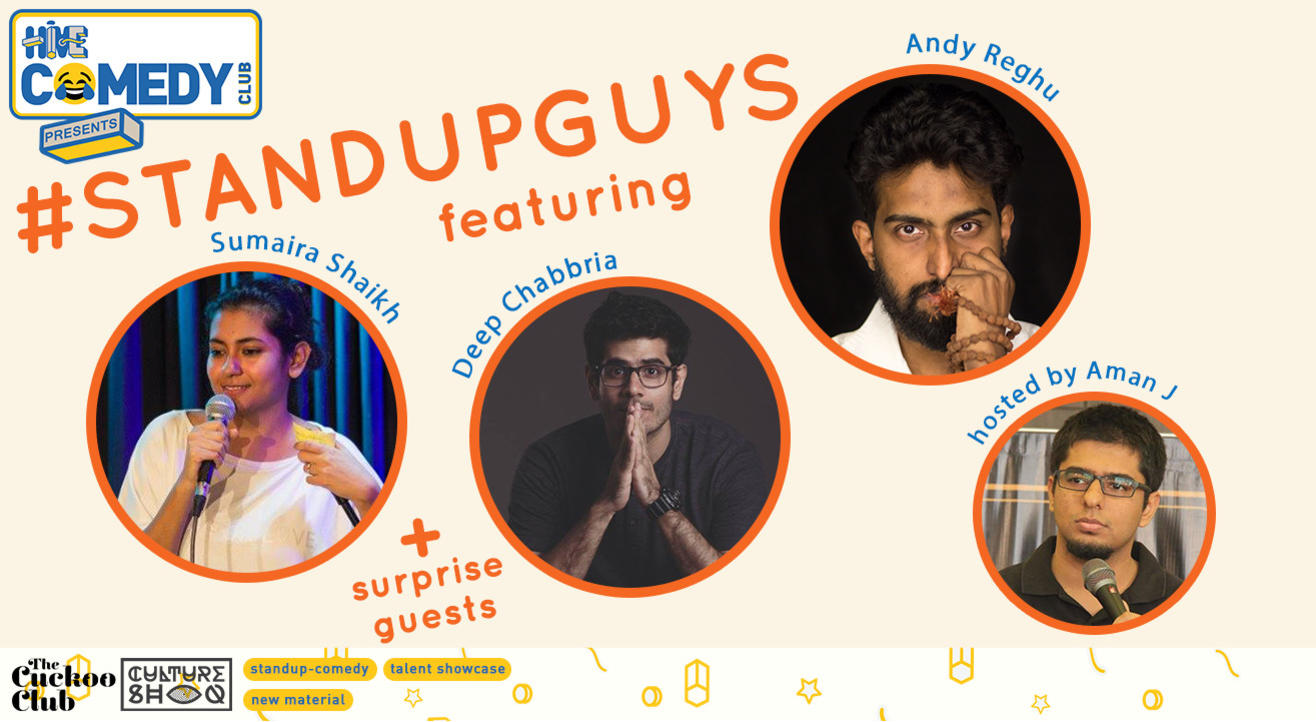 Standup Guys featuring Sumaira, Deep & Andy
---
15 Mar 2019
The Cuckoo Cafe, Mumbai, Mumbai
299+
This week's Standup Guys features Sumaira Shaikh, Deep Chabbria and Andy Reghu. Standup Guys is the HIVE showcase lineup of some of the funniest up and coming standup comedians in the country. Every weekend catch a lineup of some of the freshest new voices in the Stand-Up comedy scene from around the country with new jokes + surprise acts always drop in to test out new material for you. Your choice pick for a weekend standup comedy night out. #TrueStory


About the artists
Sumaira Shaikh:
Sumaira Shaikh is a Dongri-bred psychology graduate who gave up being a counsellor and decided to focus all her energies on Stand up comedy and content creation. Along with hitting open mics she has worked with AIB and as a writer on Son of Abish. She then joined Sumukhi Suresh to write Amazon Prime Exclusive- Pushpavalli, HotStar Exclusive- Beauty and the Feast and is currently working on multiple titles with her. She is also script supervisor for Sumukhi's YouTube series Behti Naak. When she isn't writing content or performing she watches wildlife documentaries and takes her mother's fabulous cooking for granted.
Deep Chabbria
One of India's youngest professional comedians, Deep was born and brought up in the bustle of Mumbai. Like that information made a difference to your life. It's ok read on. He majored in advertising to become a copywriter and happened to on the way start his own comedy collective called Comic Kaun? (What a pun! Oh yeah!) At a tender age of 21, he became a regular at premium comedy venues across the country. The downfall of his self-esteem began when he realised that after years of growing up he turned out to become a Jacky Bhagnani look-alike.
Andy Reghu
A writer, a professor and a spiritual leader - Andy Reghu wears multiple hats. He is from Kurla so he automatically has a criminal past. His hobbies include substance abuse and some more substance abuse. He also claims to be a TV writer and producer and he is wondering why the hell are you reading this.