Get Notification for new funny video uploads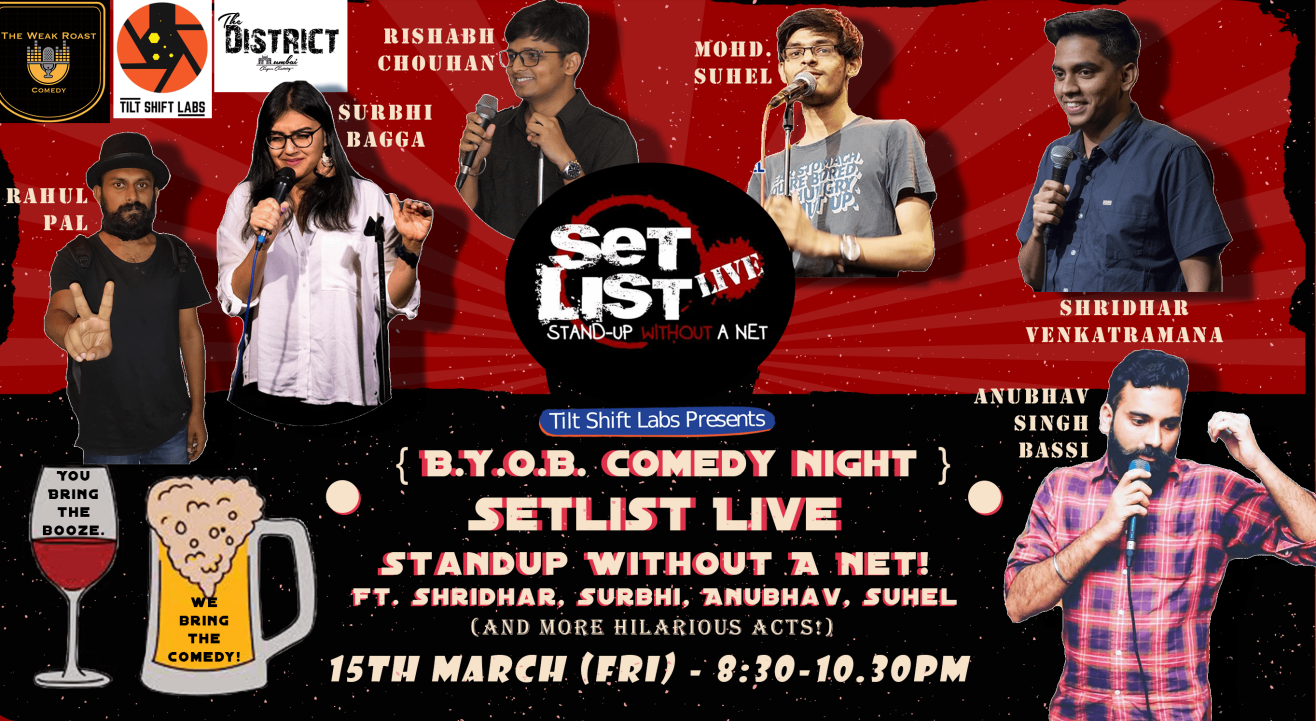 (BYOB) Setlist Comedy w/ Shridhar, Surbhi Bagga, Mohd Suhel & Anubhav Singh Bassi
---
15 Mar 2019
The District - Bungalow No. 96, Mumbai
220+
Set List Live - StandUp Without Net!
You bring the booze, we'll bring the comedy! Snacks on-the-house!
A remarkably curated comedy event for the ages, at The District, Mumbai, with some of the funniest faces in the Mumbai comedy scene…and then they have jokes too…
A 'Set list' contains written words that comedians use to remind them which jokes they will perform.
But, what if someone else wrote them an outrageous Set list and they had to create comedy on-the-spot!?
Our top Comedians are given original and deranged topics with literally zero seconds to prepare, performing seamlessly as if it's all a part of their de facto act.
See the mental wheels turn in this playground for the comedy mind.
Fresh Line-ups every week.
And, this week, have we got the ultimate line-up for you!
Special Acts:
Shridhar Venkataramana (Host), Surbhi Bagga, Mohd. Suhel, Anubhav Singh Bassi, Rahul Pal, Rishabh Chouhan, Daahab Chishti, Kuriakose Vaisian, Shahan Karanjia, Girish Rasam, Kashyap Swaroop, Antariksh Takkar and more side-splittingly hilarious acts.
Brought to you by Tilt Shift Labs, in association with The Weak Roast.
Thanks to The District, Mumbai for co-hosting the event. Offices and studios for rent at the venue! See you there!